← Back
Summer in Storrs, Huskies preparing for new season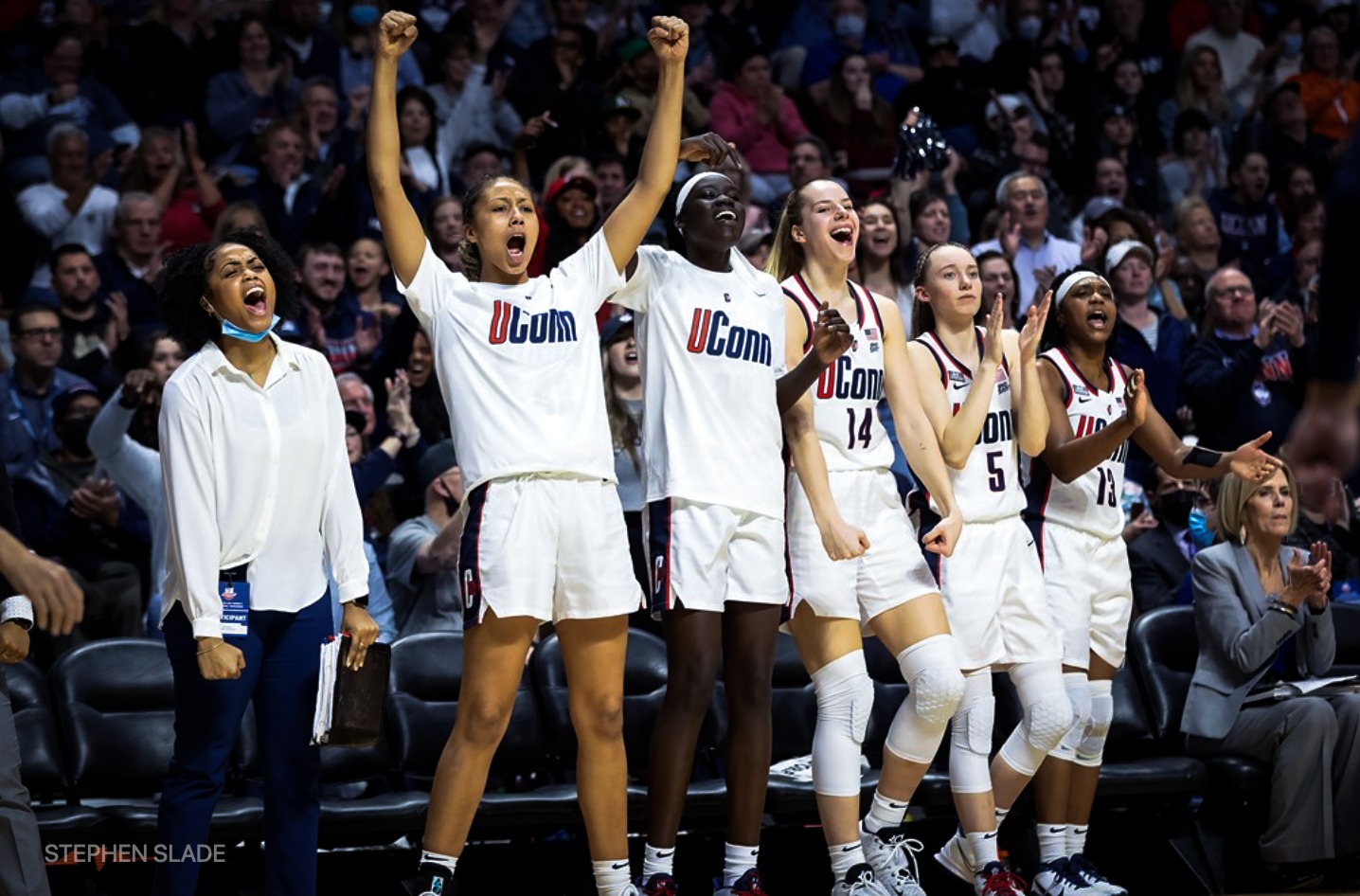 After Geno Auriemma's most trying season of his 37-year career, he has a senior roster going into this fall. This past season showed that endless adversity could bring the most decorated women's college basketball team back to the National Championship game. A consistent shorten bench did not stop the Huskies from becoming the Big East Regular season championships, Big East Tournament champs, and a trip to the NC. Is Auriemma's roster set going into his 38th season? What does each Husky bring to the court and what is critical for improvement for this coming season?
For the first time since 2020, Auriemma graduated three seniors. Olivia Nelson-Ododa, Evina Westbrook, and Christyn Williams were all drafted into the 2022 WNBA in the second round. Ododa landed with the Los Angeles Sparks joining UConn alum, Katie Lou Samuelson. Originally drafted with Seattle Storm, Westbrook is now with the Minnesota Lynx on a full contract. Williams was chosen by the Washington Mystics and unfortunately suffered an ACL tear that will keep her off the roster till next year's training camp. Each of these three alums had impeccable college careers with Williams and Ododa on the Husky's all-time leaders lists. (Westbrook has similar stats after finishing her career with both UConn and Tennessee.)
Another Husky did leave the pack. Sophomore, now junior, Piath Gabriel entered her name into the transfer portal on April 7th. There has not been news on a formal commitment elsewhere but Gabriel is not currently listed on the Husky's roster and is not training with the team. Gabriel can still draw her name from the portal and stay with UConn.
With four Huskies gone, the 2022-2023 roster adds names that fans will be cheering for this coming season.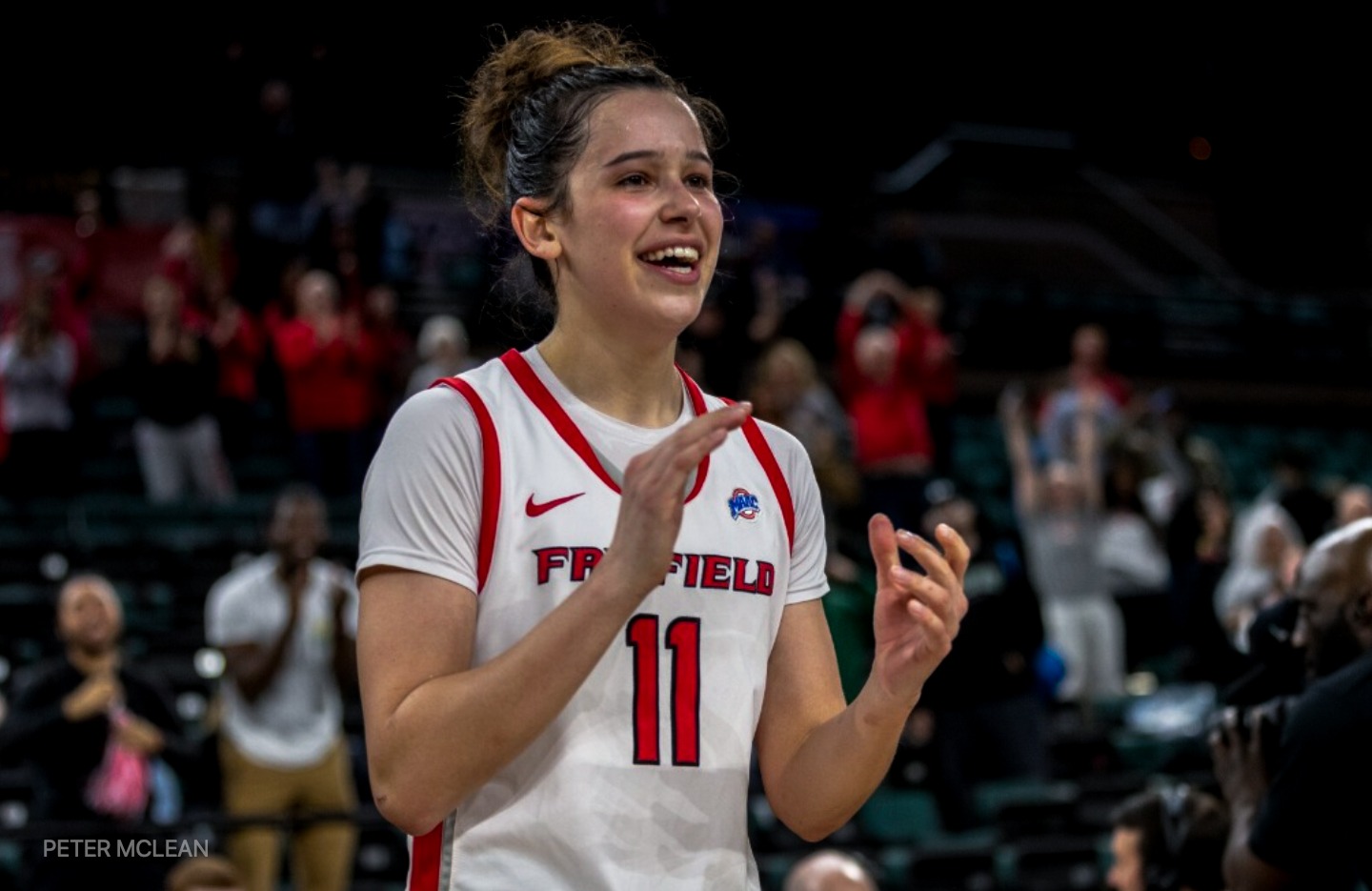 Lou Lopez-Sénéchal is a graduate transfer from Fairfield University just 82 miles southwest of Storrs. The 6'1 forward/guard combo player from Grenoble, France is one to watch on offense. Lopez-Sénéchal is a highly consistent scorer and rebounder. She was a Three-time All-MAAC First Team, the 2021-22 MAAC Player of the Year, and a Two-time All-Met First Team in '21 and '22. Lopez-Sénéchal was a 1000th point scorer and 400+ rebounder in her career with the Stags. This past season, she led the Stags in points (604), was third in rebounds (143), second in blocks (13), and fifth in steals (32).
Lopez-Sénéchal started all 98 games she played at Fairfield. As a combo player, Auriemma could add Lopez-Sénéchal to his starting lineup or play her as the sixth man. Lopez-Sénéchal brings in height where it's needed as a tall guard. Early predictions show that she will be an impact player for the Huskies as one of the most consistent scoring recruits Auriemma has brought in from the transfer portal. Credit goes to the Assistant Coach, Morgan Valley, for the recruitment of Lopez-Sénéchal.
The Husky coaching staff has made their mark on the incoming freshmen class, as they normally do. With the number one recruit, Lauren Betts, heading to Tara VanDerveer's Cardinal roster, Auriemma got the fourth and fifth-ranked recruits. Height is of great importance to this Husky roster. Losing the height of Ododa and Gabriel at 6'5 meant height had to join his pack.
Ayanna Patterson is the fourth overall high school recruit for the incoming season. At 6'2, the freshman was ranked first for the forward position and is skilled at the wing as well. Highly skilled, many universities overlooked the coaching potential of Patterson's toolbox during her recruitment process. The UConn coaching staff will help refine her skills this summer and fall to improve all aspects of her game. Patterson can dunk, similar to Aubrey Griffin, at a "shorter" height. Joining Auriemma's pack means the freshman may not use that skill during the game but Huskies fans are willing to wait till that moment comes. If she earns the moment like Stanford's Fran Belibi did, one can only imagine what the crowd atmosphere will be like.
Joining Patterson is Isuneh "Ice" Brady. Brady is the fifth overall freshman recruit who was nipping at Patterson's heals as the second-ranked post recruit. At 6'3, Ice brings in a tough, physical game similar to a future teammate, Aaliyah Edwards. As summer training has begun, Ice is currently in Argentina representing the United States on the U18 team and will move to Storrs after the tournament. Ice brings the right skill set that Auriemma has brought in over the years for his forward players. Ice studied the National Championship game and spoke with Auriemma about how what she learned from her future teammates and what she can do for the team. Impressive is an understatement for these two freshmen. Both were WBCA High School, McDonald's, Jordan Brand, and Naismith High School All-Americans.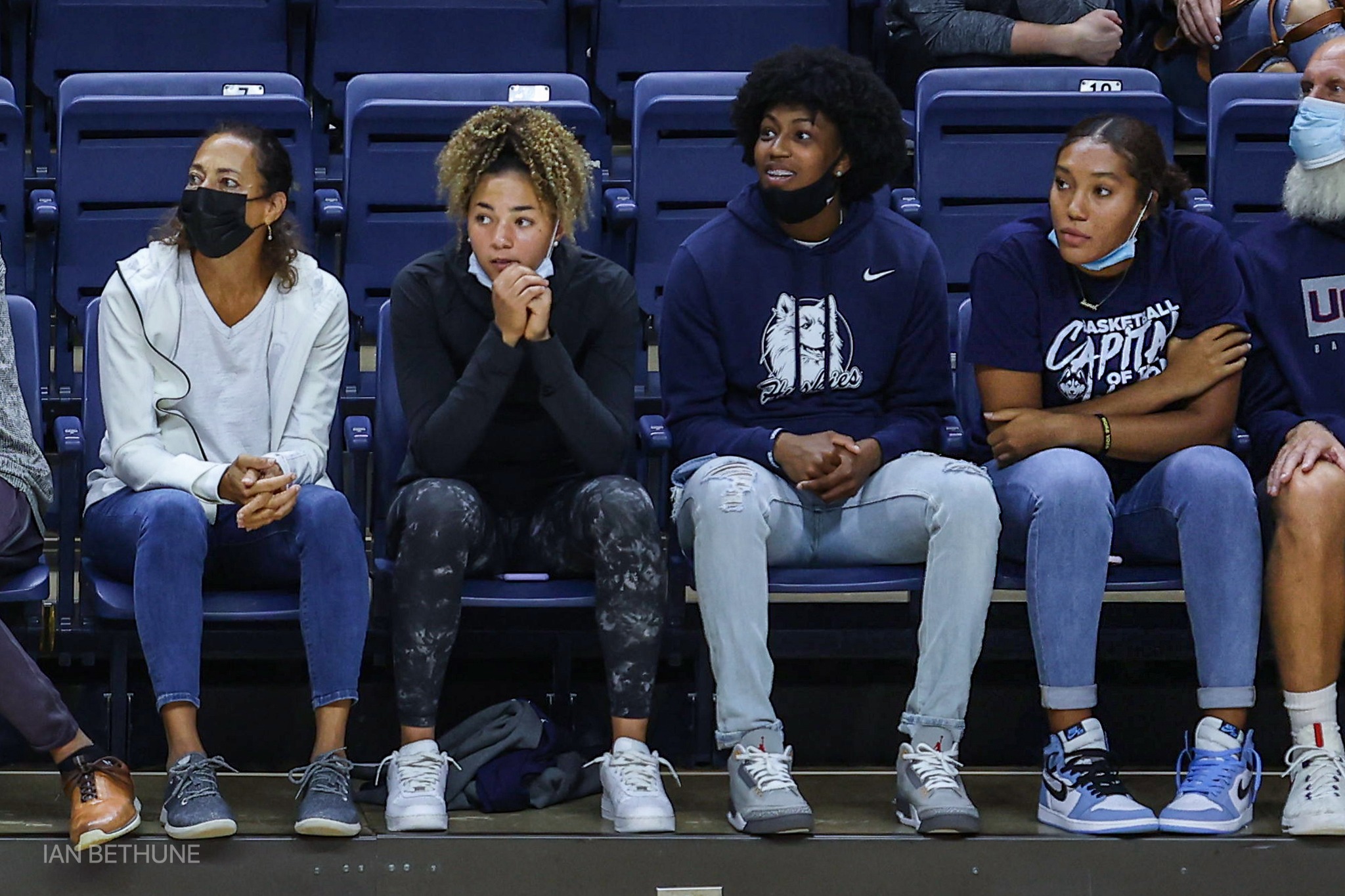 Fans are wondering where Auriemma will play these two, young rising stars. The eleven different starting lineups from last season will now change to, hopefully, one as the season starts in mid-November. Predictions have been written since fans knew graduate student Dorka Juhász announced her return for a second year. Two starters are out with Ododa and Williams in the pros, and three have shown consistency in their starting roles this season.
Possibility #1:
Paige Bueckers (JR, Point-Guard), Azzi Fudd (SO, Shooting Guard), Aaliyah Edwards (JR, Forward), Dorka Juhász (GS, Forward/Center), and Caroline Ducharme (SO, Guard).
Possibility #2:
Paige Bueckers, Azzi Fudd, Aaliyah Edwards, Dorka Juhász, and Nika Mühl (Jr, Guard).
Possibility #3:
Paige Bueckers, Azzi Fudd, Aaliyah Edwards, Dorka Juhász, and Lou Lopez-Sénéchal (GS, Combo Guard/Forward).
Auriemma and Associate Head Coach, Chris Dailey, now have a long enough bench to choose any combination of players to start. In early December of last season, his formula was broken with Bueckers' knee injury, Mühl's foot issues, Fudd's foot/ankle injury, and sophomore Mir McLean's sudden transfer. Auriemma did not have a full, healthy bench till their sweep in the Big East Tournament. Edwards and Westbrook were the only two players who had a full season's worth of availability for every game.
This upcoming season has seven forward players, with Lopez-Sénéchal as a combo. With the exciting return of redshirt junior, Aubrey Griffin, her minutes on the court might be limited. Griffin had back surgery in January and recently finished her recovery. She will not participate in contact-based practice till the end of June or early July.
Juhász's moving decision to return for a second year at UConn means the team has another center/wing forward. The second forward who can also move around the court where Auriemma needs them to be is sophomore Amari DeBerry. While DeBerry had limited time off the bench, fans got to see her play in the National Championship game to throw South Carolina off in the second quarter. Auriemma announced DeBerry was committing to staying on campus all summer, even after team training, to work on improving her skill set.
As we saw in a few games this past season, Evina Westbrook played in the four position to replace Edwards or Ododa whenever they were in foul trouble. It was not just Westbrook who played there; Caroline Ducharme played as the four in some Big East conference games and against South Carolina in the NCAA tournament.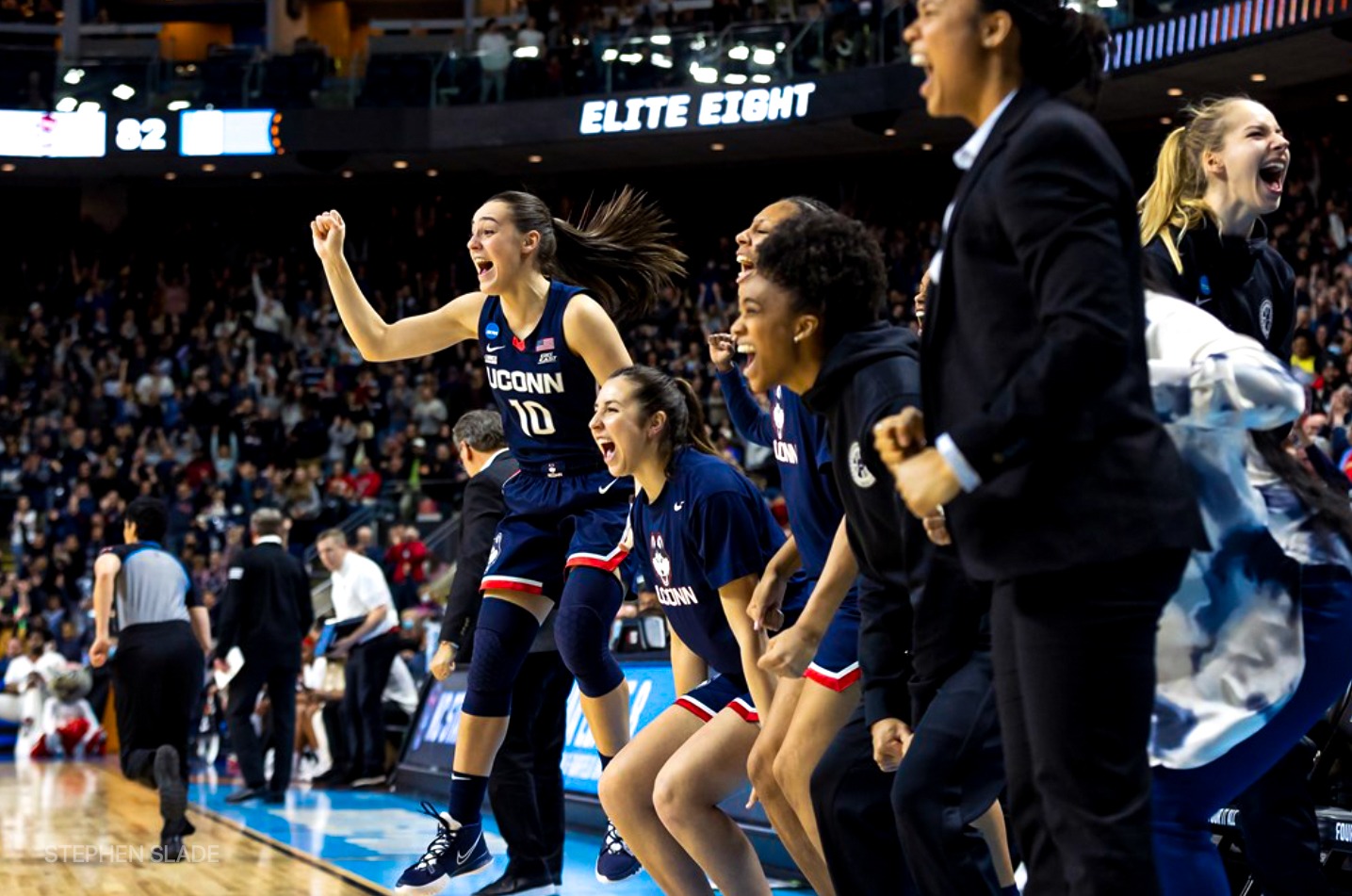 What are some key improvements UConn needs from its players this fall? Let's look at each player.
Paige Bueckers (Junior, 5'11 Point Guard):
Suffering a non-contact injury in the last minute of UConn's game against Notre Dame, Bueckers had torn her meniscus along with a tibial plateau fracture. Missing 19 games this past season, Bueckers came back to play in the remaining 11 games. Bueckers has been a prolific shooter in her two years as the point guard for the team. She was not scoring much till the NCAA tournament but that is not unusual for players to come off an injury and not produce as much on offense.
Bueckers will spend her summer working through a strength and conditioning program to regain her leg strength before her knee injury. Having two major surgeries in one year possibly took a bigger toll on her body than fans realize as she had ankle surgery a year ago. In terms of scoring, Paige held a consistent scoring average when she returned and could improve her three-point shooting. She did finish third for the team in this category.
Amari DeBerry (Sophomore, 6'5 Center/Forward):
DeBerry saw action in the toughest losses UConn had during her freshman campaign. Her commitment to training all summer could impact the roster rotations this fall. There are a number of things DeBerry needs to work on and the first is training with confidence that Auriemma wants to see. We saw that she can hit threes on occasion and block shots, both two major skills she should continue to hone down on. If their are scrimmages, it would be best for Auriemma to sub her into the game early to build on her under-pressure confidence.
Caroline Ducharme (Sophomore, 6'2 Guard):
Ducharme will miss summer training due to the hip surgery she had in late April. This surgery came as a surprise to fans to learn Ducharme played at such a consistent, high level with an injured hip. She began rehab two days after her surgery and will be ready to train in the fall preseason.
So what can Ducharme work on when she returns? Like Bueckers, her three-point scoring average is not as harmonious as her field throws or foul shots. With her height, rebounding will be important if UConn plays her in the shorter lineup.
Aaliyah Edwards (Junior, 6'3 Forward):
Edwards had quite the turnaround season returning to the starting lineup. Playing in all 36 games, Edwards acquired a sheet full of personal fouls. Illegal screens or unintentional charges plagued her playing time in most games. Her scoring efforts could always use improvement though her averages are not terrible.
Impactful as she can be, Edwards had a heck of a game when UConn first played DePaul. Though she fouled out, she contributed where UConn needed her to against NC State in the Elite Eight scoring in double-digits.
Azzi Fudd (Sophomore, 5'11 Shooting Guard):
Coming in as the first-ranked recruit, Fudd proved that she earned her starting position for this Huskies team. In her first collegiate start against Tennessee, the Lady Vols had no answer for her offensive power. One of the best free-throw and three-point shooters in the sport, Fudd had consistent scoring and had a highly efficient scoring effort in the NCAA tournament.
Fudd will continue to rehab her foot to prevent any further injury. Not noticed by many fans, Fudd continued to wear a supportive boot throughout the season to help compress her ankle.
Dorka Juhász (Graduate, 6'5 Center/Forward):
Juhász, similar to Ducharme, Griffin, and Fudd, is in a rehab program for her wrist. She gruesomely fractured her left wrist in the NC State game and had surgery a few days later. Her progress through rehab has excelled her timeline to return to team training is sooner than expected. She will continue rehab during training.
With her skill set, Juhász can move into the center role this season when UConn uses its zone defense. She is a consistent rebounder in the post and her height makes it harder for Big East opponents to earn offensive rebounds. At 6'5, Juhász can slide to the wing and hit a three with ease. This is her biggest area that could use improvement as her wrist becomes stronger.
Nika Mühl (Junior, 5'10 Guard):
The Croatian Husky has room for improvement in terms of shooting. Mühl's free throw percentage is not the greatest and needs to improve if she ends up on that stripe. It seemed as if Mühl played a more supporting role with her number of assists and steals, but it may be the small number of shots she took in the second half of the season.
The reigning Big East Defensive Player of Year had some impressive blocks and forced turnovers against big-time opponents. Her height allows her to sneak by defenders to reach in for loose balls. Mühl was consistently in foul trouble when she returned from her injury but vastly changed her playing with less aggression towards the ball. 
This player improvement leaves out Lopez-Sénéchal, Griffin, Brady, and Patterson since they were not in a Huskies uniform this past season. Every player will always improve on one skill or many during the summer training and fall preseason. UConn needs to enter the season as healthy as humanly possible going into a tournament in November.
More UConn updates to follow, as well as predictions for the season for UConn and other teams.