← Back
The Test: UConn vs Texas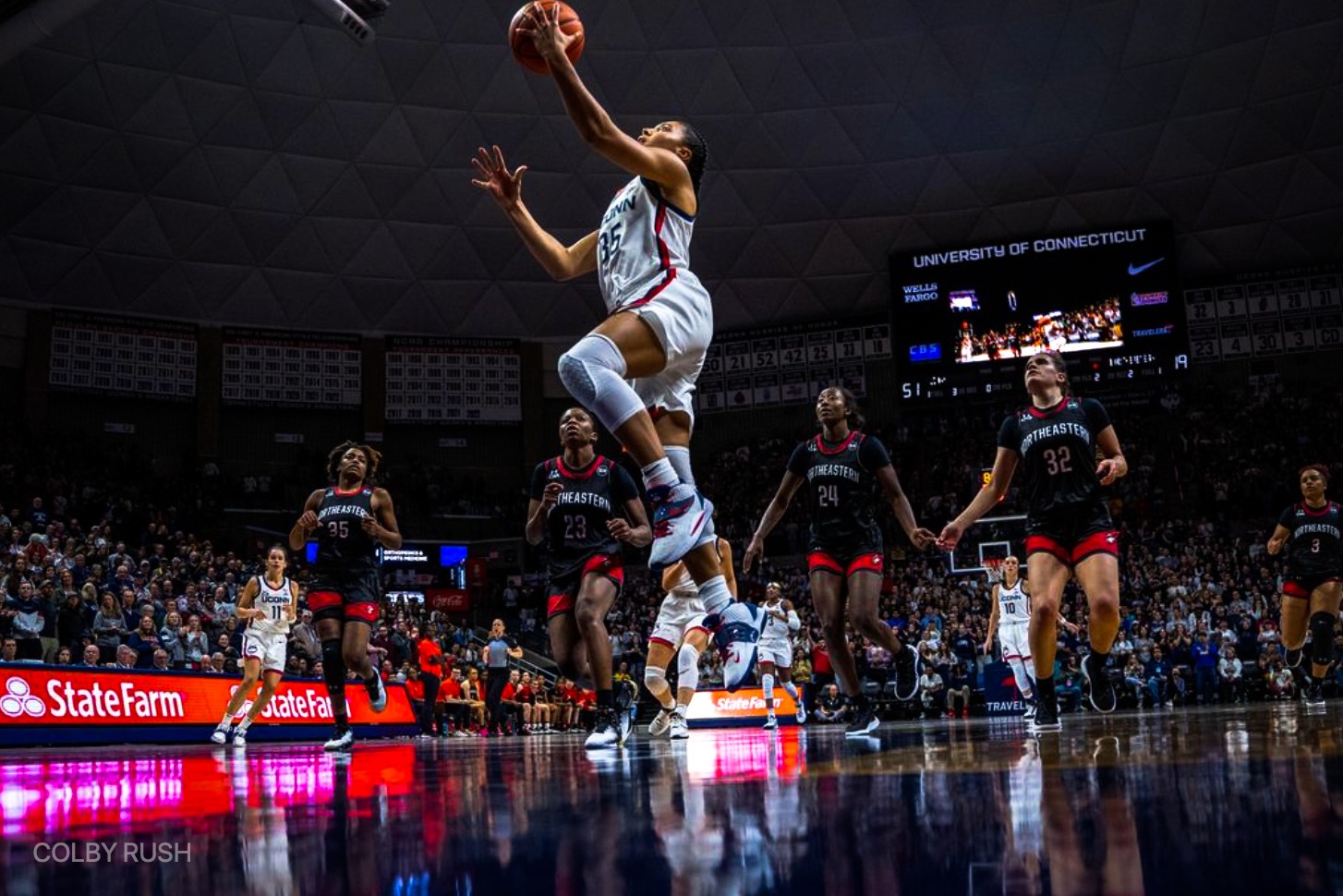 While the basketball season began last Monday, many believe the first few games a team plays are not true tests for the elite programs in the nation. That all changes tomorrow night when four ranked teams face each other to kick off the second week of the season. While No. 5 Tennessee lost a big ranked match against No. 14 Ohio State this past week, No. 11 Indiana will try to dig the Lady Vols into a deeper hole. The most exciting game tomorrow is between the No. 3 Texas Longhorns and the No. 6 UConn Huskies.
The Texas Longhorns opened up their season Friday night against the Louisiana Ragin Cajuns. Texas was without their star point guard, sophomore Rori Harmon, due to a foot issue. Harmon is an integral part of the Longhorns' lineup as their only true point guard. Head Coach Vic Schaefer told the media that Harmon is dealing with a toe issue. In the inaugural game at the new Moody Center in Austin, Texas, Harmon was seen wearing a boot to support her foot. She is currently listed as day-to-day and Schaefer is unsure if she will be available on Monday.
Texas beat Louisiana 68-45 in a relatively close game. Without a point guard, Texas struggled consistently in different aspects of the game. The Longhorns accounted for 25 turnovers which were surprising for this team. Another stat line that stood out was their scoring percentages. The Longhorns went 1-11 from long range, shooting a mere nine percent. Without Harmon, the bench almost scored more than the five starters with 33 bench points.
Sonya Morris, a graduate transfer from DePaul, left the game early with what Schaefer noted as a back injury. In the last few minutes of the third quarter, Morris was struggling to keep pace in a breakaway moment. She finished the game with 9 points, 6 rebounds, 2 assists, and a steal in 22 minutes. This is another player Schaefer is unsure about Morris' availability for Monday as well.

Who to Watch: Texas
The Longhorns' bench swiftly came into the game to help seal the win over the Ragin Cajuns. Taylor Jones, a 6'4 junior, kept Louisiana on their toes in the post. She accounted for 21 of the 33 bench points, going 6-9 in field goals and 9-14 on the charity stripe. Jones is a prolific shot blocker and had 5 on the night. With only one personal foul herself, Jones tends to draw in defenders to draw fouls to be on the free-throw line.
Ndjakalenga Mwenentanda, a freshman from South Dakota, came off the bench and contributed. The 6'2 guard added 10 points, 8 coming from the free throw line. The BYU standout, Shaylee Gonzales, has found her new home welcoming. The graduate student started and played for 32 minutes. She scored 8 points, 6-6 from the charity stripe, but could not find a solid rhythm Friday. She led the Longhorns in turnovers. One thing to note about Shaylee is her range. She will drive the lane or hit long-range threes. Once that rhythm appears, she could be dangerous.

Texas: Physical and Determined
While the Longhorns shot 76 percent from the free-throw line, they struggled with their own personal fouls. Aaliyah Moore only saw 14 minutes on the court Friday after tapping out at her fifth foul. Moore is a strong, physical player in the post which will be a test for the Huskies. Jones will be tough to defend unless her height is matched in the paint.
The Longhorns are not afraid to drive the ball into traffic. Though, that willpower could lead to unwanted turnovers. Texas has three players standing at 6'4 and one at 6'5. Their front court is smaller in size with guards Gonzales at 5'10 and Shay Holle at 6'0. It lowers if Harmon is available with her standing at 5'6. .
The Main Concern
Without Harmon, who is Texas' point guard? Holle can step into the role, and so could Gonzales. A playmaker is vital against the top teams in the nation and this could prove to be an issue yet again. Unless Harmon's toe is miraculously healed by Monday afternoon, she may not see time against the Huskies.
The New Huskies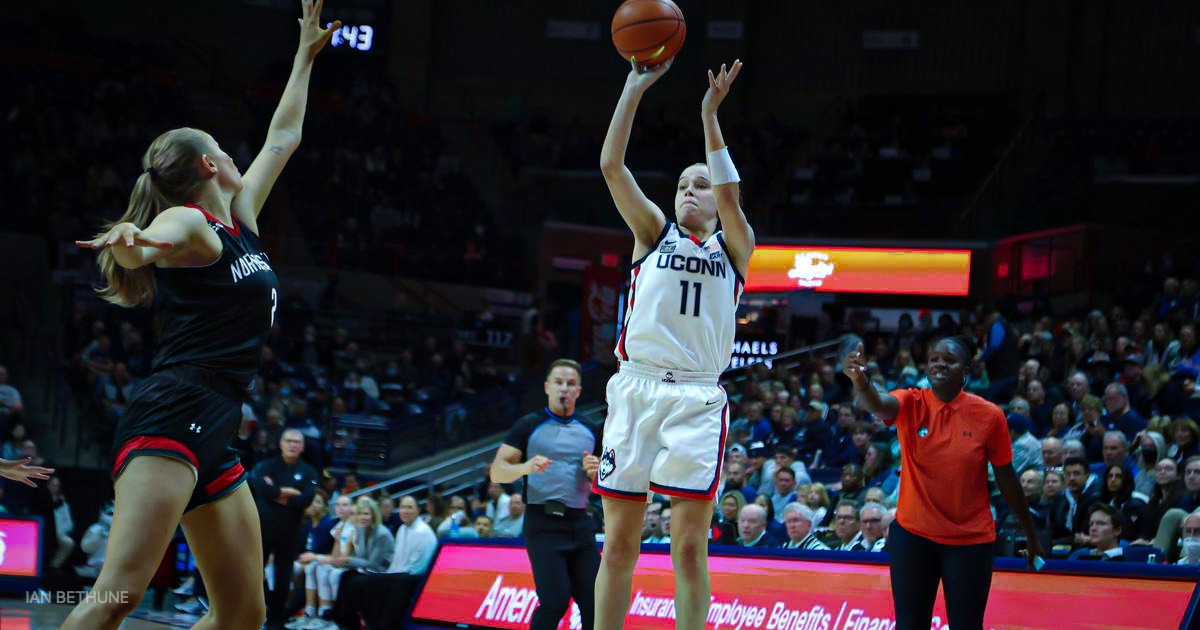 Geno Auriemma turned to the transfer portal again this past off-season. He only signed one transfer but he also brought in a last-minute member of the freshman class.
Lou Lopez Sénéchal is a 6'1 combo guard from France. She did not have to travel too far to Storrs after playing for four years at Fairfield University. The graduate student will only play one year for Auriemma and has started her final season with success. A starter, Sénéchal had an immediate impact in her Husky debut Thursday night. She scored 17 points, scoring 4 three-pointers. As a combo guard, Sénéchal could be used as a point guard, wing, and post player which could be the key to success this season.
Ayanna Patterson was ranked the No. 4 recruit in her incoming freshmen class. A 6'2 wing, Patterson is not afraid to follow the ball and regain processions for the Huskies. Though she only saw time with 13 minutes against Northeastern, Patterson was able to score 5 points, grab 7 rebounds, and earn 2 assists. She is a determined, young player who wants to contribute in multiple ways. If Patterson can learn early from her foul mistakes, her impact could be significant without Ice Brady this season. Brady had surgery last month for a dislocated patella in her knee.
Inês Bettencourt (pronounced ee-nesch) was the last addition to this year's roster. The 5'9 guard from Portugal was set to start her collegiate career at a JuCo college in Florida before Auriemma signed her. Bettencourt set foot in Storrs a few days before the fall semester began and has been welcomed with open arms by her teammates. She did not see that much time against Northeastern but still earned a steal and assist. Bettencourt has excellent ball-handling skills and could be the point guard that continues the consistent pace for the second half of games.

Who to Watch: UConn
Lopez Sénéchal will be quite a force on the court. She is a fearless scorer and is one of the players who is not afraid to go up against tall players. In her last game for Fairfield, she played against the Longhorns in the first round of the NCAA Tournament. Sénéchal scored 17 points, had 5 rebounds, and 2 steals. She played all but 10 minutes as she part of the game after getting hit in the face. That did not stop her as she back to score most of her points with a giant bandage on her lip.
Azzi Fudd, the prolific three-point shooter was on fire for the Huskies in their season opener. The 5'11 shooting guard has turned on the jets and is ready for a healthy sophomore season. As sharp as a three-point shooter can get, Fudd struggled against Northeastern and went 1-8 from long range. After a few missed shots from distance, Fudd was able to score both in the paint and on the charity stripe.
Aaliyah Edwards and Dorka Juhász were an unstoppable duo last season. With these two bigs in the starting lineup, the boards will be grabbed. Edwards and Juhász combined for 28 points, 23 rebounds, and 4 blocks against Northeastern. They have both improved, knowing that it is early, their free throw shooting. Edwards was 6-6 from the charity stripe and Juhász was 3-4, helping the Huskies to 84 percent at the line.
Aubrey Griffin went over 500-plus days without playing basketball. The redshirt junior is back on the court after being sidelined with a back injury last December. In 24 minutes, Griffin scored 13 points, grabbed 5 rebounds, and had 2 steals. With Nika Mühl, Griffin is a key player in transitional pressers. Fans are cautious whenever Griffin takes charges after her season off but she does it correctly every single time.

Who Has to Step Up This Year
Many fans are still unsure about sophomore Amari DeBerry. It was mixed on whether or not she would transfer after her small impact during her freshman campaign. DeBerry earned minutes in the National Championship game in March, a sight not many fans were expecting. She owned up to mistakes and spoke about how her effort was not as much as others. Since the exhibition match does not count toward season statistics, DeBerry had to come against Northeastern and make a difference.
DeBerry came in before the end of the third quarter on Thursday. In her ten minutes on the court, DeBerry scored 6 points and grabbed 2 rebounds. Her height, at 6'5, is important for this team.
While Edwards has been highlighted in this article, it is key to know that she only earned her fourth career double-double on Thursday. Without Ice Brady, Edwards has to be on her game and out of foul trouble. She got stuck in a hole of offensive fouls in illegal screens last season.
Nika Mühl is the point guard of this year's team. It is her job to communicate and run plays in pivotal moments. The reigning Big East Defensive Player of the Year has already compiled 6 steals. Known as a pest on the court, Mühl has the power to control the game. She ball handling skills are one to beat and she is a menace. At 5'9, she is not afraid to block a shot down low.
The Unknown
It came to surprise UConn fans that Caroline Ducharme played her freshman campaign on an injured hip. The 6'2 sophomore had corrective surgery in May which kept her out of summer training till August. Ducharme was labeled as unavailable for the Huskies' exhibition match last Sunday as Auriemma said she had been dealing with neck stiffness. The day before the season opener, UConn announced she was unavailable again. Ducharme spoke with Meghan Culmo before the game and said she is feeling better. She hopes to play against Texas on Monday.
Longhorns & Huskies
Until the schools announce their player availabilities prior to Monday's game, it is hard to say which way this game will go. Without Rori Harmon, Texas may struggle with UConn's frontcourt consisting of Fudd, Mühl, and Sénéchal. UConn is playing with the speed and determination that guided them to their win over Northeastern.
Texas is strong and experienced with a handful of transfers. UConn is skilled and game-changing with its mixed roster. For both teams, their post players need to stay out of foul trouble. Mühl has to be smart when attacking defense, especially against Holle and Gonzales. Juhász will have her hands full defending Moore and Jones, so the same goes for Texas.
No. 3 Texas travels to Storrs to face the No. 6 Huskies. Prior to the game, UConn is retiring Swin Cash's number. The former forward wore the number 32 jersey and became a 4 time WNBA All-Star in her professional career. The game tips off at 6:30 pm on FS1.